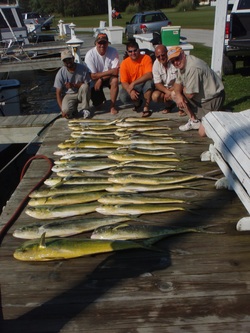 Jumped aboard Miss Beulah for a day of Mahi abuse. The gaffers have assaulted our beautiful blue 78
degree
water, and we did our best to run them off. We fished a beautiful color change in about 30 fathoms and it was constant action until about noon when the flat seas and the boat traffic turned the fishing off. Nothing better than watching nice gaffers cutting water to eat everything in your spread. It was a picture perfect weather day, sunny upper 70's and flatter than a ballerina. We had a pair of billfish come to
play
but they faded off after a couple pokes.
It is incredible fishing right now on the troll, and the grouper are patiently waiting on the bottom for their chance to get a ride on my SeaCraft. After 84 gaffers and a couple wahoo in 2 days fishing I am about to leave the trolling stuff at the house and go play with the Groupers. I did find a new use for my Spinal Jigging rods however.......mahi trolling !!!
I brought along a Spinal 300 gram acid wrapped rod equipped with a Talica 12-2 speed and sent it out in the spread with a Monkalure and kept it tight to the transom since I only had a short topshot and didn't want the braid to slice though the other lines while we were fighting multiples. I kept the drag tight and popped the lure in the wash and it was game on. What a blast to fight those gaffers on a light outfit instead of a Tiagara 50w. I think I now on my combo jigging and trolling trips I am not gonna have to wash so many outfits because my Talica /Spinal jig sticks were perfect for the trolling
job
at hand, and excel when it comes to hitting the bottom.
For all you popping fans, now is the time to come down and catch these nice mahi on stickbaits. There are plenty around and they will be here for quit a while. We are also seeing a better showing of breaking blackfin tuna after a spring which was less than average.
I was a busy fella and didn't have a chance to get many pictures, but here are a couple to wet your appetite.