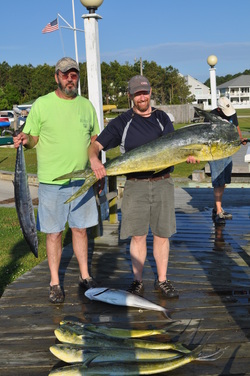 I saw a lot of posts about Tuesdays weather, and all I can say is that there was some weather out there.
I had Eric and his Father, Eric's friend Bill, John and Jim hop on for some fishing. In an effort to put us in a position to hit a couple spots on the way in for cobia and grouper I headed down the beach to the low 400's and found blended 75 degree water. Looking for a nice
class
of fish we skipped over the first break and set them out in 50 fathoms. We had to look around a little but soon we found them and they pretty much ate everything.At this point someone turned on the fan. It was a gentle 10 to 15 breeze when we set them out, but now, it decided to really start puffing.
We ineffectively worked the area but it became increasingly hard to keep the spread over the fish due to the now 20 kts. of wind out of the NE against the current. John did manage a beautiful personal best bull dolphin that measured out at 57 inches. We worked our way out of the hot current in an effort to get a better angle for the trip home and looked right along the break for wahoo. The seas were much better once we came in shallow to about 200 ft., but the fishing was slow. We picked off a few more dolphins and wahoo just as the weather got itself right.
Stopped to do a bit of jigging for cobia and grouper and Jim managed a nice gag and Bill caught an amberjack. We ended the day with I believe 14 mahi, 4 wahoo, amberjack and a gag. It wasn't stellar by any means, but the crew toughed out the conditions and have a good bit of meat for the freezer. The class of dolphin was real nice and we only had one slinger sized fish.