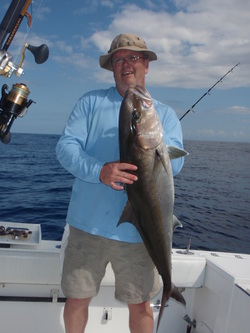 All I can say is that if you never did a Military Appreciation Day Event, ....DON'T MISS ANOTHER YEAR !!! I was contacted by a former Marine Bryan Pichford about treating some Marines to a day offshore and he generously stepped up and offed to cover the trip. These guys and gals put their lives on the line for all of us, get moved from place to place, make modest livings, and ask for little in return. Bryan is a MAD veteran and was as excited as me to meet the troops and show them our appreciation. We both knew that this was gonna be one of those trips that you will never forget.

We headed out of the inlet about 6am. with a prompt, courteous, respectful, and polite group of 4 Marines and everything couldn't have went smoother. The ocean greeted us with calm seas and a show complete with waterspouts, rainbows, rain clouds and sunshine....all at the same time. We ran offshore of the storms and enjoyed the show as we sat in flat seas for our first drop.

The first drop was a warm up to get the guys used to the equipment, learn their way around the boat. They soon enough had the brine tank filling up with some nice triggers and had all played catch and release with some nice starter sized amberjacks and almacos. After bringing up triggers 2 at a time it was time to take the guys for a little ride on the "Pain Train". We pushed out a bit deeper and came across the marks I was looking for. The guys all rotated through some nice sized Jacks and almacos on the jigs. One brave Marine tried doing 2 in a row and collapsed to the deck after #2. We released a bunch and threw a couple in the brine tank to be enjoyed on the grill in the future.

After having more than enough triggers and pulling on Aj's, we made a run to the Black Seabass grounds and the guys went to work filling out their limits with some excellent sized seabass, and some other tasty critters as well. The group had a blast bringing up the groceries on those stops. I wish I took some pictures of the nice ones you fellas put on ice!

I gotta tell ya, I am a better person after meeting all these fine men. I was amazed at how this group acted as true Brothers in every sense. They cheered each other on during the fights, helped each other selflessly, baiting hooks, removing hooks, counting fish, cutting baits, whatever was needed by one, the rest were there. Their respect for each other and their politeness and obedience to the Captain will never be forgotten, it was a stark reminder of just how much out men and women in the armed forces will put themselves aside for the benefit of others. I cannot Thank them all enough, and a special Thanks to Bryan Pitchford for bringing the group together. Spending a day on the water with you all is something I will never forget. Enjoy the couple of hundreds of pounds of delicious fish you fellas put aboard, and I am sure your friends and families back at base will all enjoy the bounty, because, one thing I am sure of is that you guys know how to share and bring joy to other people's lives. Also a big Thanks to all the volunteers who put this all together from the organizers, to the cooks, and the fish cleaning volunteers.

Thanks again for giving me a day I will never forget !