The Captain (US Coast Guard Certified)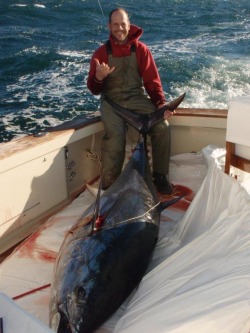 Captain John grew up fishing and has mastered many aspects of fishing from fly fishing for wild trout in mountain streams to trolling for Giant Bluefin Tuna and Billfish offshore. From a very young age his love of fishing helped him gain a solid grasp on the art of catching fish. The natural progression of a skilled fisherman takes years and Captain John's fascination with the art of catching fish led him to many trophies in both fresh and saltwater. From a young age Captain John seemed to have a knack for catching fish. Attention to detail and patterns while on the water has allowed him to understand fish behavior and most importantly how their behavior can be used to an anglers advantage. Captain John will work hard to share his knowledge with his guests and enjoys watching others share the love that he has for fishing.
---
---
2006 32 ft. SeaCraft Master Angler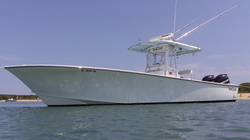 A 2006 32 ft. SeaCraft Master Angler with 2012 twin 300 hp Suzuki 4 stroke engines is a fast, stable, open and solid fishing platform. Modern Raymarine electronics, EPIRB and safety gear assure trouble free navigation and fish locating abilities, and most importantly peace of mind while offshore. A large T-Top with enclosure and side curtains will keep the wind and spray at bay and offers shade on those sunny days. With a cruise speed around 40 knots we get to where the big ones live in short order and once there, multiple livewells with on board oxygen generation system ensure plenty of lively bait. Outriggers, downriggers and numerous rod holders allow us to present an irresistible spread of lures and or baits to bring the fish to the boat. A wide open cockpit with 360 fishing capabilities make for plenty of elbow room and plenty of space to help you subdue your trophy. Once aboard, your catch will be properly stored in one of the massive fish boxes or in our onboard brine tank to ensure the best quality catch for the table. Captain John takes great pride in a clean, well maintained and well equipped vessel to ensure a day on the water will be as safe and trouble free as a day of offshore fishing can be.
---