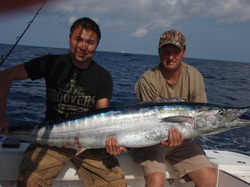 Here is the species count from yesterday's combo trip.

Mahi
Wahoo
Cobia
Grouper
Silver Snapper
Vermillion Snapper
Giant Black Seabass
Atlantic Sharpnose Sharks
Grunts
Bank Seabass
Sand Tilefish
Trigger fish
Almaco / Amberjack

It was a beautiful weather day and we made a quick run to the break and had our first knockdown before the spread was even all out. We worked off to the deep catching a nice class of gaffer mahi along the way. Worked a deep offshore ledge and had a stud wahoo smoke the long rod and put up a damn good fight until he was subdued with a pair of gaffs. We picked up some more gaffers and 2 more smaller wahoo as we headed back in shallower to do some bottom dropping. Close to lunch time we put the trolling rods away, and broke out the anchor and Spinal Jigging rods.
The bottom fishing was drop and reel. Ed managed a cobia and Alan nabbed a nice Graysby grouper. We had to release a ton of nice seabass, however, June 1st. is right around the corner and it is gonna be a bad time to be a seabass.

Days like today make me really love my job. Calm seas, hungry fish, and cold beer at the end of the day. The guys collected a couple hundred pounds of meat for their efforts, and are ready to do it again. I am totally amazed at the fishery we have down here. I hear about all the trips to Florida and other "Sportfishing Meccas", (and all those places that require a fat wallet and a passport), and I shake my head wondering what the attraction is? I have to say that North Carolina is where it is at, especially on a budget. Don't believe me? I have some dates available and would love to show ya what I mean.