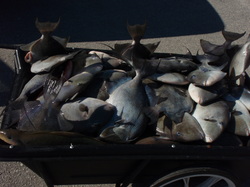 There is only one way to describe the fishing right now and that word is epic. Limit catches of snapper, grouper, triggers, etc. Just yesterday we packed the boat and were headed for the dock before 2:00 to have our 533 lb. catch filleted.
Grouper are chewing and the big gags have moved in a bit. The big red grouper are moving off to the break a bit but are also feeding well. The cobia are becoming more numerous, the b-liner fishing is ridiculous good, the giant hubcap sized triggers are jumping on top bottom rigs 2 at a time.... it doesn't get much better than that. If bottom fishing isn't your style, the cooling waters are firing up the jig bite and the wahoo and blackfin action is off to a fantastic start.

I have dates open , even on some of the upcoming weekends, so, make room in your freezer, get your crew together and give me a shout. Here is a quick shot of the triggers from yesterday to wet your appetite.