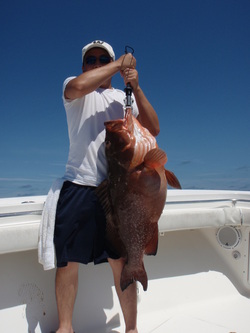 The last few trips have been strange to say the least. Dirty water, strong current, no current , clean water, hungry dolphin, no dolphin, tons of huge seabass, tons of small seabass, big grouper, no grouper, triggers on top of triggers with no b-liners one day, b-liner on top of b-liner the next with very few triggers. I have to say the last 4 or so trips have me scratching my head.

That being said, I actually like having to work things out on the water. Everybody has been heading home with plenty of meat, but it seems when I plan where and what I plan to do that day gets thrown right out the window. I wish i had a better handle on what transpired, but , nope, still scratching my head. Maybe it is a "Once in blue moon" thing?

Sorry I don't have many pictures but I did manage to snap a couple of yesterday's grouper cherries getting busted in a big way. One pegged out the 30 pound Boga grip, and the other was just under a full pull at 29 lbs. They were some heavy weights for sure. Had 3 youngsters on the boat this week as well and I have to say there is nothing better than watching the next generation of fisherman and the future of our sport get wore slam out cranking fish.